I've always struggled with my weight , often losing weight on "diets" only to gain it back again after either giving up or deciding that I was done "dieting."  When I found out I was pregnant around September of 2013, I was again trying to lose weight by eating healthier and exercising and had just recently lost about 20 pounds in a few months.  Then while I was pregnant, all of my bad habits returned and I used the typical pregnancy excuses… "I'm eating for two" or "This is what she wants"… Those bad habits and excuses resulted in me gaining 85 pounds!!!!

After giving birth to my daughter in April 2014, I knew that I needed to make some changes, but the adjustment to becoming a mother and then going back to work full-time as an attorney made it hard for me to find the time and energy to exercise and change to a healthier lifestyle.
In August 2014, when I was starting to get into the routine of juggling motherhood and my career, I was unexpectedly let go from my job.  As someone that always feared failure and rejection, I was devastated, not knowing how my fiancé and I were going to handle supporting our four month old daughter and our family on one income.  I immediately put all of my energy into starting my own  law practice, which is something I've always dreamed about doing.  Of course, this meant that my health was put on the back burner.  I struggled for months working on building up a practice from home, focusing all of my energy on work and my daughter, leaving no real time for myself.
Feeling depressed and lonely and knowing that I needed to start doing things for ME, I eventually decided to step out of my comfort zone and connect with a local moms group to start meeting new people while also enjoying quality time with my daughter. I had found a mom group online when my daughter was only a few months old and would often see them posting about different events and I would plan to attend and always come up with an excuse at the last minute, mainly because of my lack of self confidence and my fear of rejection.  Once my daughter turned a year old, I decided that it was time to finally start trying to get out and meet new people and to find new activities for my daughter, so I decided to start participating in the group.  Almost immediately after connecting with the group, I was invited to a local mom's house to workout together.  I had no idea at the time that this was going to be a life changing event for me.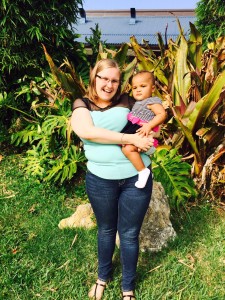 When I arrived to her house, I was nervous, having not made any new friends outside of work for several years and not knowing whether we would get along well and how everything would turn out. Another local mom joined us as well and when she arrived, we quickly turned on the TV and started a workout from the 21 day fix.  Our first workout together wasn't easy as I hadn't worked out in several months, but I was still able to get a good workout without feeling defeated by following the "modifier." After our workout, she treated us to a post workout glass of chocolate Shakeology.  I had seen people posting online about Shakeology and the 21 day fix and was intrigued by it, but I had never tried either and had no idea how good Shakeology tasted.  As we enjoyed our shakes, she started telling me about her weight loss journey and the weight she had lost with T25 and the 21 day fix with Shakeology and how she continued with her workouts and Shakeology despite the fact that she was almost six months pregnant.  She inspired me because after gaining so much weight and becoming so unhealthy while pregnant, one of my biggest goals with losing weight and getting healthier was to have a healthy pregnancy next time and to be one of "those pregnant women" who was able to continue working out throughout her entire pregnancy and bounce back easily after giving birth.  After workout, we started scheduling weekly workouts together until I decided that I was ready to commit and purchase a 21 day fix challenge pack with Shakeology and a Three Day Refresh.  I was so excited and couldn't wait to get started!!!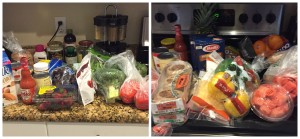 Once my challenge pack arrived, I started preparing by going grocery shopping, and taking pictures and measurements.  The following day, I started with the three day Refresh and then started the 21 day fix.  It was definitely not easy to change from my bad habits in the beginning, especially on weekends when my fiancé was home and I would be tempted by pizza and beer and wanting to go out to the movies (POPCORN!!) or out to eat.  But after only three weeks on my first round of the 21 day fix, I lost six pounds and over 12 inches!!! I was so excited about my results and my progress that I decided to become a Team Beachbody Coach to help others achieve success together with me while I'm still on my journey (I still have about thirty to forty pounds to lose to get to my goal weight).
When I first started the 21 day fix, I thought that I was doing another "diet" like I had always done before, but I've now realized that it's a new way of life and that not only is this important for me to achieve the physical appearance that I want, but it's also important for my health, both physically and mentally.  I'm not perfect and like many others trying to "diet," I've made some mistakes since I started, but my mistakes reiterated the reasons why I'm doing this.  When I "cheated" and went off of the program, I quickly became more depressed and would often feel heavy and sick to my stomach after eating, but when I returned to my healthy habits, I immediately felt happier, more energetic, and lighter.  This was enough to show me how much I NEED the 21 day fix program and Shakeology to stay both physically and mentally healthy to be there for my daughter and my family and to finally make myself happy.  I'm so excited about this journey that I'm on and I can't wait to share it with each and everyone of you and for you to join me and share your own journey.